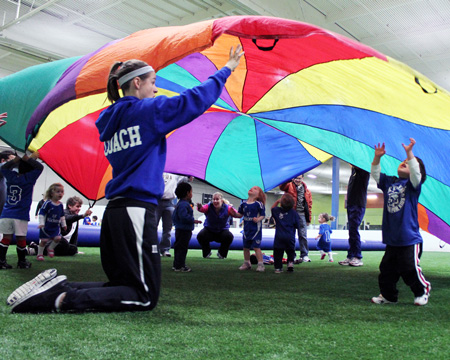 ---
Corvallis Sports Park is the perfect party place for kids! Our customizable party packages and dedicated host make planning a breeze for parents. Our well trained coaches will have your pint-sized party animals entertained with 45 minutes of creative, high-energy, and age-appropriate games and activities followed by 30 minutes in the party event tent to continue the celebration.
Planning your Lil' Kickers birthday Party will be a piece of cake! Our packages are customizable so you can fit your needs.. Spots fill up quickly, so contact us today to enjoy a fantastic birthday experience!
We do the work, you have the fun!
---
Party Packages
Members: starting at $160
Non-Members: starting at $175
CSP
~up to 15 kids included in package
~45 minutes of field time
~30 minutes in the part event tent
~Balloons and basic set up
~Instructor to run all field activities
Lil' Kicker
~CSP Party Package base
~Two pitches of Soda
~Cupcakes*
Upper Deck
~CSP Party Package base
~Two Pitchers of Soda
~Cupcakes*
~Mac n' Cheese or Chicken ~Tenders and Fries*
Upgrades to add to an party package
Extra Coach
Additional Participants
Additional Field Time**
Additional Pitchers of Soda
Additional Cupcakes
Mac n' Cheese
Ice Cream
$35 per coach
$50 (up to 12 additional kids)
$25 per additional 15 minutes
$6 per pitcher
$15 per set of 6 cupcakes
$60
$20
*All food is made fresh from the Upper deck
**Based on availability
---
Contact us to reserve your party today!