Our Soccer Store has all the latest products and gear for soccer! Renew your membership and save 20% off that day on any store merchandise!
Products
The store stocks the big items (indoor and turf shoes, socks, shorts, shin guards) through the accessories (shoe leather, team/country scarves, athletic tape). We carry Referee jerseys, shorts, flags and cards as well as fan gear!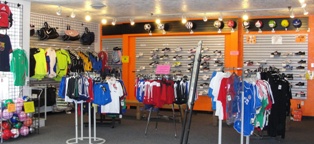 Team Orders
Are you a club or school coach looking for new uniforms or need replacement uniforms? We can help. If you are not sure what uniform you would like to order, we will gladly assist your team in making a decision. Along with good customer service all team sales receive a discount off their order!
Want to buy a gift, but not sure what to get? Buy a CSP Gift Certificate. A gift certificate can by applied toward anything we offer in the store, pub, leagues or classes.